P

roducts
Turbine & Generators
Control & Protection Systems
Balance of Plant Equipment
Hydro Mechanical Equipment
Turbine & Generator Spares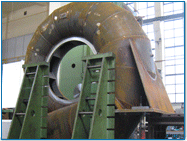 PRODUCTS >>

Turbine & Generators

NPEL provides complete Electro Mechanical package with high efficiency runners for Small Hydro Units. These include :
1.
Pelton
2.
Francis
3.
Kaplan
4.
Bulb
Consult the application chart below to determine which turbine best suits your site conditions.