P

roducts
Turbine & Generators
Control & Protection Systems
Balance of Plant Equipment
Hydro Mechanical Equipment
Turbine & Generator Spares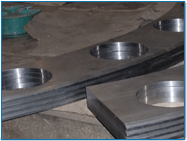 NPEL manufactures and provides various custom built Turbine and Generator Spares for Hydro Units of all makes and types. We ensure the high quality and timely delivery, thus saving long lead times and valuable foreign exchange for our customers. The list of spares include
1.
Runners
2.
Guidevanes
3.
Wearing / Cheek Plates

4.
Labyrinth Rings
5.
Shaft Seal Assembly
6.
Guide Bearing Assembly
7.
Guidevane Housing, Bushes

8.
Links & Levers
9.
Thrust Pads
10.
Needles & Nozzles
11.
Stator Bars & Pole Coils
12.
Insulation Material
13.
Rubber / PU Seals, etc.